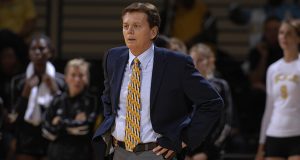 So Volleyball1on1 recently released 6 detailed video's by the esteemed Coach Brian Gimmillaro from Long Beach State University. These include 1 video each on Passing, Defense, Spiking (Hitting as I'll refer to it), Setting, Serving, and Blocking. If you have the opportunity to watch these videos and use the information supplied in them I would definitely recommend doing so. I came up with a personal plan to work to get better (unfortunately I rarely have a partner to practice with) and give you an idea of what the videos can do. Here's my disclaimer that I'm sure you'd probably hear from most any coach. Brian is a very intelligent and experienced coach. There are a lot of things that he describes that I've found completely eye-opening and helpful. There are, however, a few things that I don't completely agree with hiss phrasing or technique, but I've worked to keep an open mind and understand where he's coming from with his analyses (I personally don't like rolling for instance).
Here in part 1 I'll relate my experience with the first video in the series, Passing. To put things into perspective, I started school a couple weeks ago and have been participating in my school's fall volleyball training program. The first day I showed up without much recent indoor playing experience, and it clearly showed. All around my game was tremendously weaker than it had been in the past and it was pretty beachy (I've been playing and coaching a lot on the beach). Add in the new rule being implemented for California Community Colleges that it is illegal to receive a serve with your hand (unless they're together like on the beach) and it turned out to be a very frustrating day.

Now as everyone has probably heard countless times, there are two skills regarded as the most important in volleyball. Passing and Serving. This partly contributed to my decision in working with Brian's passing video first. I've had a lot of problems with standing up and arm positioning as I contact the ball. Brian's video does a great job of beginning with the basic passing knowledge that is required to be able to pass well. Start low, Stay Low. Lock your elbows. Shuffle your feet. We've all heard most of these before. However, he does an excellent job of demonstrating what he is talking about correctly (with the help of some of his players from Long Beach State). For me, being a very visual learner, I found it tremendously helpful to be able to see what the players were doing and working to emulate their actions. One thing that stood out to me was the fact that the passers heads and shoulders always remained at the same levels when stopped or when moving. This is something I've taught players I've coached and worked on myself, but still struggle with. Seeing the players in the video do it over and over again gave me a renewed strength in working on it. As the players moved I followed along at the gym (thankfully on the weekends nobody is here so I can work on things like this without distracting anyone). I stayed low keeping my head at an even level. It seemed to work when I played later in the day. There weren't any serious improvements in my passing, but by keeping level I had more consistent passing than I've been having.
Brian, also, discussed movement in great detail. He had his players demonstrate side-to-side movement, front and back, as well as moving diagonally (ie moving sideways and backwards at the same time). This was a concept that I guess I've done naturally at times without giving it much thought, but having it described so plainly and shown on the screen really emphasized the importance of it. Ironically, it's probably one of the most important forms of movement and it's rarely (at least in my experience) touched on by coaches.
As I continue this experiment with the rest of the videos, I'll write my experiences here to illustrate some of the benefits that these videos specifically have provided for me. I encourage anyone who hasn't already done so to subscribe for a membership with Volleyball1on1. The information available here is tremendously valuable as I hope to show with my experiment.