AVOIDANCE OF ACCOUNTABILITY is the fourth dysfunction of many teams that results in failure.

Because of a lack of real commitment and buy-in, team members develop and avoidance of accountability. Without committing to a clear plan and each member understanding their individual and team contributions to that plan, even the most focused and driven teams often hesitate to call each other out on actions and behaviors counterproductive to the good of the team.

As coaches we or by instructing our team leaders should take some of these roles if needed to start the conversation.

One of our important roles and goals as a coach is create an environment that ensures that poor performers feel pressure to improve!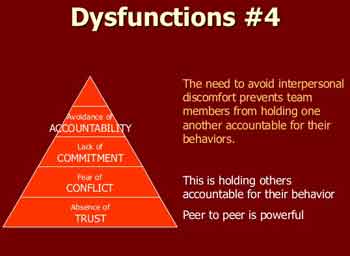 By doing this we can also create a positive environment of better co-operation between the team as team members help each other overcome the problem.

Exercises include publishing both individual and team goals as well as team standards on the white board before and after practice. Then reviewing together to see if these standards were met.

As you can imagine this is all very difficult and requires focus as a coach. The trap all coaches must avoid is becoming "COACHING SHARK" constantly involved and telling. As I see it this is a coach constantly circling the practice / team looking for mistakes and telling his players how they are not meeting "His / Her (The Coaches)" specific standards.

Rather good coaches foster an environment where the team is accountable to themselves where the coach is often holding back their thoughts and judgments.

If you are a coach looking to build a better team this year and would like advice on coaching youth volleyball players, set up a call with Andor Gyulai to review your goals and discuss some of the programs he offers. High School Coaches and Club Coaches – Click the Link to schedule a call now.