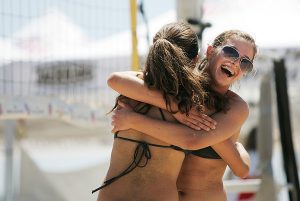 On the Saturday and Sunday of July  14th and 15th,  I helped film some new footage for our website here at Volleyball1on1 at the pier in Hermosa Beach. I can't give any specifics about the project, but I can say that I'm going to personally use it on a weekly basis. Incidentally, our filming session happened to overlap the Amateur Athletic Union's (AAU for short) annual Junior's Beach National Championships that were also taking place in Hermosa Beach. Now you may or may not know, but I help coach beach volleyball for San Diego Beach Volleyball club. I bring this up because our club fielded around 20 or so teams in the tournament.
Saturday began with pool play. Pools consisted of 5 teams. Matches were decided by 1 set to 28 (win by 2). the majority of our teams did very well on Saturday. A few of them had the misfortune of having to play each other during pool play, but they all enjoyed themselves. I missed the afternoon portion of Saturday to volunteer at the women's USA vs. Bulgaria scrimmage, but from what I had heard it was full of surprises and upsets. One team that surprised me was comprised of Jansen and Kamilla Tan. They were a favorite to win the tournament, but were upset Saturday afternoon and dropped in their ranking.
I returned Sunday morning to watch the single elimination playoffs. That is to say that should a team lose they ref and go home. The level of volleyball was amazing. The number of courts being used quickly dropped as the age divisions moved into their quarter-finals, semi-finals, and championship games. The ball control displayed by the participants was astounding. I watched the boys 14U and thought to myself that these guys are so much better than myself.
Because the tournament staff wanted to have all of the championship games on the center court (Time Warner was filming them all) some matches were scheduled to be played later in the day. Our San Diego Beach volleyball duo of Paige Hines and Morea Wagner won their semi-final match and had a 2 and a half hour wait. Paige and Morea ended up winning the girl's 18U division. They were the winners of last year's 16U championship so it was exciting for them to win 2 years in a row.
Overall, it was a great experience. Keep your eyes peeled for the latest content coming pretty soon. As I said earlier it looks to be some pretty awesome stuff that I'll use a lot.