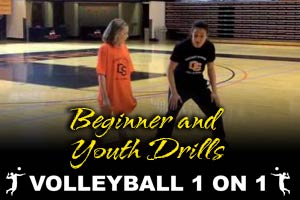 Volleyball drills for beginners, youth and kids. We offer the best selection of youth, kids and beginner drills on the web. Find the drills your need to help young and new volleyball players improve their passing, setting, spiking, serving, blocking and defense. Our drills are youth specific and will often use youth in the drills.
This video features the conversation from the office regarding the volleyball exchange drill. The point of this drill is to warm up the players while still building skills and working on movement in transition. With the increased speed of the game transition movement has become more and more important.

In this video Wes and Andor talk about the volleyball tennis drill. This is a drill Wes likes to run at the start of practice to warm his players up. The drill also works on several skills including ball control, passing, movement, and reading. Also Wes like the drill because it sets a good tone for practice and gets his players competing early.

The next drill is servers verses passers drill. The drill consist of a serve followed up by an additional ball from a coach hitting on a box in order to increase the number of repetitions.

Wes Schneider Exchange Volleyball Drill is a great drill to help your team with all areas of the game while still warming up the players successfully. Some the the things we see players get out of the drill in particular include learning over head ball control meaning a control swing.

Volleyball Tennis Drill is a movement and passing warm up drill Wes uses occasionally with his team before match days to have a little fun and get the team moving. The drill focuses and improves a number of different skills including but not limited to; passing, movement and reading.

Spiderman dynamic volleyball warm up drill with Shawn Patchell works on stretching the players while immediately getting on the ball. It is a simple drill that works on a skill not often focused on during practice, namely passing low balls, plus it gets the team on the ball and touching the volleyball.

This volleyball movement drill helps with both passing and defensive movement. The drill teaches players to move in all directions without taking a negative step. This drill is great for players of all levels!

Shawn Patchell 10 high, 10 low volleyball defense warm up drill is a great drill to warm up your hitters shoulders plus work on defense and digging a low ball followed by digging a high ball with your hands.

Serving and passing drills are common in all coaches practices however what I really like about the way Shawn Patchell and his coaching staff run this drill is how the coaches use technology and strategic coach placement to maximize individual attention / feedback and player improvement. See all 6 videos of this drill here!

In this drill you will hear important tips and verbal cues from Shawn Patchell for Over the Net Pepper Drill. This post also includes links to other teams including USA Men's team running this drill.

Stein presents part 25 of 27 for setters. Shown is a drill for setting the off play.

Stein presents part 24 of 27 for setters. Shown is a drill to be able to set forward or back at the last second.

Logan Tom presents a video series on volleyball passing technique. These videos present the basics that every player from beginner to Olympian must use.

Logan demonstrates a video series of passing drills. This series is geared for beginners to see how pro players work on fundamentals to stay sharp on the court.

Logan coaches volleyball spiking in this series of instructional videos. The fundamentals are shown in great detail for beginners and pros alike.

This volleyball warm up drill is over head pepper volleyball drill. This drill will work on a lot of overhead digging reps as well as focus the hitters on getting their feet to the ball.

The next volleyball drill is the warm up setters pepper drill. This drill will improve setting, overhead digging and control while spiking.

The pass to hit butterfly volleyball drill works on the skills that every coach wants most, passing and hitting! In this drill the players pass the ball and then go outside for the hit. Super simple drill that Dan uses for warm up during practice. You will notice some changes in the tempo of the hits based upon how warm the players are.

The correction drill is a great drill to work on any skill except serve receive. What Dan likes to do on occasion is start that the players can only tip. This forces the players to work on their tips shots and work on getting better at defending the tip shot.

In this video Dan Fischer does a quick 1 minute volleyball warm up drill called Partner Rolls Volleyball Drill. The goal is to have your partner work on defense. They will accelerate to the ground in order to do this drill successfully. Be sure to check out the video from the office where we discuss this drill in depth and answer your questions.

The warm up 20 20 28 volleyball drill is one of our all time favorites. What this drill does is focus on both underhand and overhand ball control. For underhand the players get to pass, bump set and play defense. For overhand the players get to tip, set, roll hit and hit.

Steve presents a series on spiking which is what every beginner wants to learn. In these videos everything is broken down and builds confidence with easy to understand instruction and drills.

1. The arm swing on the beach is unique and slightly different from indoor. Proper technique prevents injury and forms a base to work on.

teve walks beginners step by step through instruction and drills on how to pass like the pros do. Easy to use verbal cues and examples are included to build confidence with game like situations.

1. Footwork progresses from the starting position to moving sideways, backward and forward with efficiency.

Steve presents a series of videos on setting for beginners that is easy to understand with instruction and drills that can be put into action with confidence.

1. The most common question is answered on what is a legal versus illegal set with a demonstration on the differences.

teve presents a video series on serving specifically for beginners. This vast amount of coaching and drills build confidence by breaking down the mechanics and technique for all players to become effective servers.

1. Begin with the correct way to address the ball

Steve walks through a video series on blocking for beginners on the beach. Height is not always needed and confidence is easily gained with coaching cues and drills that are easy to understand.

1. A blockers mentality is taught in a drill without ball so the blocker understands how active blocking is on the court.

Steve describes and demonstrates how to pull from the net when blocking. These videos show the easy and efficient way to properly pull off the net that has players build confidence quickly.

1. Staring position and balance with efficient footwork has players cover a large amount of ground when staying at the net.

Crunch Time Volleyball Drill is both team and coach favorite. When there is a draw in the "Little Italy Drill" the players move to the crunch time drill. The players have to kill 3 balls in a row in order to move out of crunch time and then go into a game with regular score win by two starting at a particular score, often 22-22.

Over the Net Pepper has become a very popular drill for all levels! The drill teaches over the head and below the head ball control. It also is great for teaching players how to interact together on the court and what their roles and responsibilities are on the court! This video offers some great insights into running the drill for juniors as well as verbal queues for coaching kids.

This incredible video and drill features Bill Ferguson working with a player one on one to improve their arm swing. It includes volleyball spiking technique from Bill, verbal queues, as well as step by step on how he teaches spiking! This video is a must for all club and high school coaches who teach youth and junior volleyball players.