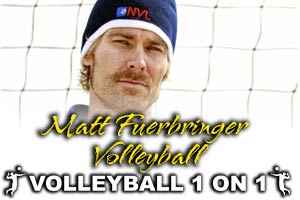 Matt is a six time AVP champion and won a NCAA Championship at Stanford. He is also a four time All-American and was top five in blocks and kills on the AVP for the years (2000-2012). Matt also is a 20 years of coach and joint owner and director of THE MAC athletic club and Mizuno Long Beach Volleyball Club. Arguably one of the best girls volleyball clubs in the Nation.
Matt shows effective strategies for blocking the line in beach volleyball. This series includes 6 videos and 6 different ways to block the line shot. 1. The basics involve affronting the hitters shoulder and pressing over the net taking away the line and seam. 2. Being tooled is the worst that can happen to a […]

Keeping the shoulder healthy and avoiding volleyball injuries is a concern for all volleyball players. Matt's had multiple shoulder surgeries before the age of 23 and shows how to prevent and recover quickly from injury.

Matt teaches a drill for blocking on the beach. This drill is the first of three that involves a tape above the net.

Matt demonstrates a drill for blocking on the beach. This drill adds a progression to the first drill in this three part series.

In the final video of this three part series the progression ends with a live action drill. Matt explains the last part of the beach blocking drill.

Matt explains how to spike on the beach. In this video he teaches new players when to approach as well as offers other tips and advice on hitting.

Matt talks about setting on the beach. The difference between indoor and beach setting is demonstrated. To view all of Matt Fuerbringer's videos – Click Here!

Transitioning from indoor to the beach takes working hardest on a players weakness and turning it to a strength. Matt shares which skills to work on.

Passing on the beach requires passing to a different location than indoor. Matt talks about where to place the ball when passing on the beach.