In sports, there are winners and losers.
Results are the most reliable barometers for success in our society, whether that be on or off the court. The fifth dysfunction of a team is what we call "Inattention to Results."
"Perhaps more than with any of the other dysfunctions, the leader must set the tone for a focus on results. If team members sense that the leader values anything other than results, they will take that as permission to do the same for themselves." – Patrick Lencioni, The 5 Dysfunctions of a team.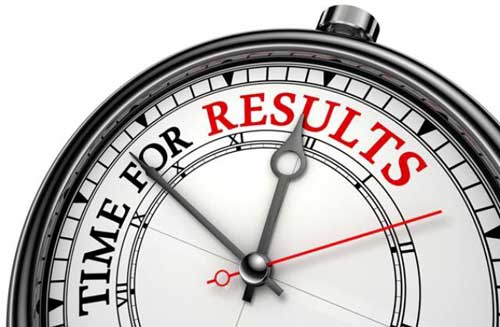 As the leader or "CEO" of a volleyball team, the coach must set the precedent for how the team will focus on results. Once the high school season begins, most teams will play, on average, two matches per week. This creates an abundance of opportunities to evaluate and review results with players!
Results after each match must be seriously and deeply evaluated by the entire team, with the coach often leading these evaluations. Oftentimes, having a player leadership council lead the meetings can be hugely beneficial, and I'd also encourage you to build a culture within your program where the older teams evaluate the younger teams and review results together. There are few individuals whom junior varsity athletes look up to more than their varsity peers. Use that relationship to help build your team culture while evaluating results.
All of this, of course, requires preparation by the coaches, paying specific attention to the team's goals and team culture. The goals set by you, the coach, need to be understood and agreed upon by all team members early in the season (Buy In / Commitment), and these goals must go far beyond winning and losing. Some of these goals might not have anything to do with volleyball at all, but the type of team culture you want to build in your program.
No matter the goals or culture of the team, it is always imperative to steer the meetings back to concentrating on results.
Examples:
"One of our intentions as a team was to communicate better together. We all agree that we did not do this well during our last match. So, this week we are going to do some specific drills on communication, and our libero and setter are going to lead the drills. Does everyone agree to this, and do you believe that if we do this we are more likely to win our next match?" – Coach
"As we have reviewed multiple times, the serving and passing battle accounts for 75% of our success on the volleyball court. Our middles are not serving effectively and our liberos are not passing at a high enough percentage. I think we can all agree that we need to work on this in practice this week, which should help us close the gap and win the close games. What do you think?" – Coach
"In our last match, I felt like you girls did a great job supporting Angie. She was having a difficult time in that first set against a big block and tough defense. What impressed me was how every single one of you rallied behind her, helping to give her confidence, filling the holes on defense and covering her hits. This made a huge difference, and she came back and had a great hitting match and helped us win! Great job everyone, and great job Angie! You kept with our goal of supporting one another while evaluating and reading our opponents." – Coach
Notice the language and the focus on specific results, and also note how the coach connected those results back to the team goals where it was possible.
"Team leaders must be selfless and objective, and reserve rewards and recognition for those who make real contributions to the achievement of the groups goals." – Patrick Lencioni – The 5 Dysfunctions of a team.
One of the biggest mistakes coaches make is when they dole out rewards and recognition to those who do not actually deserve it. We'll call this the "Participation Trophy Syndrome." While, sure, the participant might feel good in the moment, they know, deep down, they did not earn the reward, whereas the athlete who worked hard for it is likely to feel resentment.
How could the hard worker and the "participant" be the recipient of the same award? It shouldn't happen, and yet it does, which is why it is vital for coaches to reserve their recognition for those who are deserving of it. An easy way to do this is to track statistics for all matches, which will ensure that contributions are not only measured, but rewarded fairly.
Perhaps conversely, it's also critical to consider that statistics are not everything. Equally important to a team's success are the intangibles: effort, attitude, leadership, encouragement. While it's difficult to measure intangible contributions, it is nonetheless necessary to reward positive behavior that enhances the team culture, showing the team that they can contribute in more ways than simply kills and blocks and four-point passes.
Of particular importance are the setters, who often feel as if they are on an island as the team's leader or best player. Be sure to recognize their growth and development, to lift their spirits when the burden of leading the team becomes tiresome.
So, do we reward and recognize every positive action and behavior? Not necessarily. I'd actually strongly oppose it. If we are constantly praising our athletes, the value of recognition and praise becomes diluted, almost to the point where it is expected. An athlete must feel they earned the recognition.
Alas, one final and critical point: I have heard the same complaint from a number of coaches claiming that "Inattention to results occurs when team members put their individual needs above the collective goals of the team."
Some of the excuses I have heard include:
"This generation does not care about the team, thinking only of themselves and their stats."
"This generation only cares about friends and hanging out at the mall."
"This generation is spoiled, and the parents have created self-centered brats."
"My top players don't care about high school, instead prioritizing club and how they might get a scholarship."
In all of these statements the coach blames the player, the parents, the culture – anything but themselves. You must remember: You are the coach. This is your team. TAKE OWNERSHIP of your team. You must look at the environment you create in the gym and ask if the team culture you are creating is a match for your current generation of players.
One of the most common mistakes that we find is coaches creating a culture they experienced as players more than 20 years ago. Think about all the changes that have happened in 20 years! How could a culture from the 1990s or even 80s resonate with today's generation? The short answer: It doesn't. More often than not, it's not the personal problems of the athlete that is causing friction on the team, but the outdated culture that is being pressed upon them.
If you are coach struggling with this or other problems related to team performance or motivating players, please let me know. I am open to scheduling a quick call to review how we help coaches and teams overcome this challenge during our Volleyball1on1 Summer Camps.
Go Here – To schedule a call with me (Andor Gyulai – Volleyball1on1 Owner) now!
Resources: